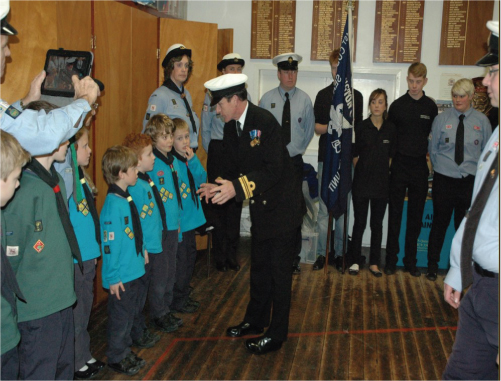 In late November, 1st Cuddington hosted Lieutenant Commander Gray; the Royal Navy's Staff Officer Sea Scouts; for their regular inspection.
After spending time in the afternoon visiting the Group's boathouse, reviewing the self assessment form and chatting with Explorers who are young leaders; Lt Cmdr Gray attended the formal inspection which featured members of all 4 section & invited guests.
They saw Beavers crafting, Cubs doing first aid, Scouts undertaking a range of bases from sailing theory to electronics, with Explorers testing stoves, showing guests around and more. He later commented: "There was a very good variety of training on display. Bases were mostly adult led and were generally at a high level of performance."
The end of the evening involved a formal parade and a wide range of presentations, from Scout Investitures to Award of Merits.
For us, the process adds real value to our Scouting. It gives us a chance to get external feedback, to benchmark ourselves against the best in the UK and for our young people to show off their skills and accomplishments.
The inspection, which started with a self assessment, ends with a written report giving highlights and areas for development. We were very proud of the conclusion:-
"1st Cuddington is a very lively, outgoing and well-respected sea scout group and it was very easy to recommend that you retained your Royal Navy recognition."